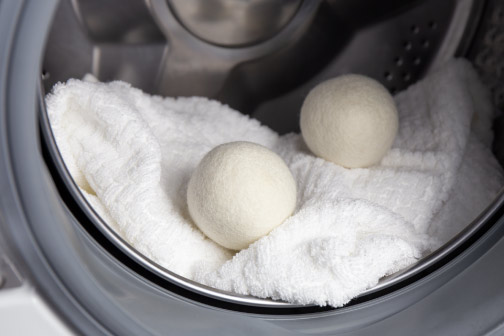 Wool Dryer Balls
Store-bought dryer sheets emit VOCs (volatile organic compounds) that are known to be very toxic and have been linked to Alzheimer's and cancer. A 100% natural replacement for dryer sheets is dryer balls made from wool. You can purchase them already felted (which is what most people do) and ready to go, or you can make them yourself by felting wool.
Why use wool balls?
They can cut your drying time in half
They help reduce static
They save you money on your energy bill
They are chemical-free, unlike dryer sheets
They can be re-used over and over again
They increase the fluffiness of your clothes
They are safe to use with cloth diapers.
Materials Needed
4-6 Wool Dryer Balls
Favorite Essential Oil
Method
Simply add 5-8 drops of any essential oil onto one of the dryer balls and throw into the dryer with the rest of your dryer balls.