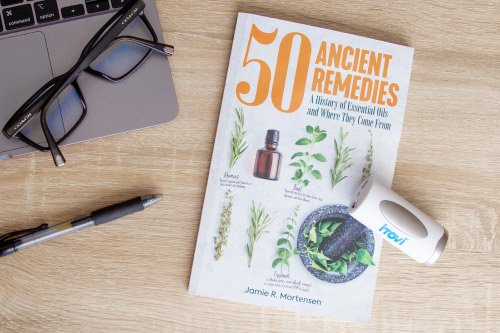 There you are (or there your client is), delightedly looking down at a brand new, personalized iTOVi Scan Report. You can see your top-response products clearly listed!
You're likely filled with excitement, curiosity…and just a little confusion.
Now what?
What are you supposed to do with these products?
Why did each of these products show up in your scan report in the first place?
(i.e. Okay, okay, I can see "Cedarwood" in the "Brain Support" and "Trust" categories…but that still doesn't tell me what I'm supposed to do with Cedarwood oil!)
These questions are normal. And they are exactly why having access to iTOVi's Reference Books is so valuable!
What are iTOVi Reference Books?
iTOVi Reference Books are simply this: access to the essential oil industry's top reference books within the iTOVi App directly from your scan report(s)!
Once subscribed, all you have to do is tap on any product in your scan report and you will immediately be able to see what the industry's top books have to say about that product: what its benefits are, how it ought to be applied, its background, safety considerations, and more!
(And if you want to see the reference book info for a product that wasn't in your scan report, you can! Just go through the "Products" page in the iTOVi App Main Menu.)
Essentially, the iTOVi Scanner helps you narrow down which products your body is most responsive to and iTOVi's Reference Books help teach you how to use those products to maximum benefit!
For a personal wellness user, this is a great way to learn about their own wellness and about the products that best suit them!
For a business owner, this is a great way to streamline client education, boost interest, increase professionalism and credibility, and ensure safety—without having to lug your essential oil reference books with you wherever you go.
Which books are available?
Our current reference book options are:
50 Ancient Remedies: A History of Essential Oils and Where They Come From
Rest assured, we keep our in-app reference books updated to match the very latest editions of these books!
Essential Emotions
One of the wellness industry's top guides for using essential oils to support emotional wellness! Discover the emotional profiles of 70+ single oils and many popular essential oil blends! Each profile contains an emotional description, usage instructions, list of companion oils and more! Plus, find extra resources on the body and emotions in the back of the book! This book focuses on DoTerra products.
Essential Life
A guide to essential oil use for physical wellness and other practical uses in the home! Use this book as an index to look up different oils and supplements, their uses, look up wellness conditions and what products to use, recipes, massage techniques, safety guidelines, and so much more! This book focuses on DoTerra products.
Essential Oil Desk Reference
A guide to almost all things essential oils. In this book, you'll discover oil and supplement profiles, household and personal care product recipes, application techniques, tips for child and animal care, information on emotional support with essential oils, environmental toxins, wellness plans, the history of essential oils, and more! This book focuses on Young Living products.
Releasing Emotional Patterns with Essential Oils
Target specific emotional issues with essential oils! Learn how to combine the power of essential oils, affirmations, and body-connection techniques to address specific emotional issues and blockages. Includes easy-to-use diagrams, charts, and descriptions! This book focuses on Young Living products.
50 Ancient Remedies: A History of Essential Oils and Where They Come From
Know the legacy of your essential oils! Discover the unique history behind fifty of the most popular essential oil plants, including where it first appeared, how it got its name, and how it has been used culturally and medicinally across human history.
(Note that, depending on which company's products you have chosen to scan for, your book options may be different. )
How Do I Get Access to iTOVi Reference Books?
You can change your account's settings, including your access to iTOVi Reference Books, through the iTOVi Dashboard. To reach the dashboard, just click on this link or sign in to your iTOVi account on itovi.com!
Once you've reached the iTOVi Dashboard, look for the "Reference Books" section and select the books you are interested in!
Is there a free trial?
Yes! You can sign up for a 14-day free trial of any book through the iTOVi Dashboard!
Long-term Access
To have enduring access to these reference books within the iTOVi app, all you have to do is subscribe through the iTOVi Dashboard (access to each book is $1.99 per month).
Once you'ved signed up, sign out of and back into your iTOVi App on your phone, and voila—you'll have the premium content from your chosen books right at your fingertips!
Do My Clients Get Access to My Reference Books?
Yes!
Any book content you are subscribed to, your clients will also be able to access through their scan reports! All they have to do is download the iTOVi App, open their scan report, tap on any product in their scan report, and they will be able to access the same reference book information as you!
Recommended Usage Blogs