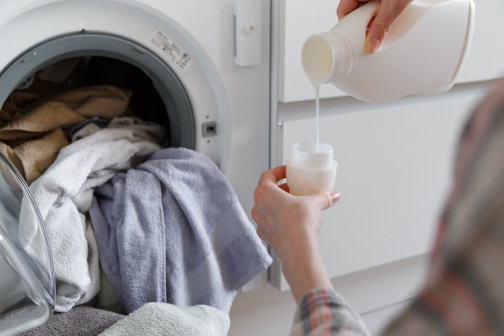 Natural Laundry Detergent Recipe
At iTOVi, we value all steps towards health and wellness. Do-it-yourself projects allow creators to take toxins out of everyday items, making living more natural. We've searched for homemade laundry detergent recipes that get the job done (while keeping families safe) here is our favorite.
Your grocery list
     Liquid Castile Soap (sold at most natural food stores)
     Arm & Hammer Super Washing Soda
     Arm & Hammer Pure Baking Soda
     Your favorite essential oil for scent (optional)
     A large container
Instructions
     Combine ½ c. washing soda and ½ c. baking soda in a large mixing bowl
     Slowly add water until soda mix dissolves (start with ½ c. water and add more as necessary)
     Stir in ½ c. liquid Castile Soap
     Add 5-8 drops of your favorite essential oil scent (optional)
     Pour mixture in a large container
     Fill container with water, leaving 2 inches of space at the top
Use approximately 1/3 c. of detergent for normal sized loads. Households with soft water should use less detergent. Always follow your washing machine's instructions to determine the appropriate amount of laundry detergent usage.
We hope this recipe helps you tackle your family's laundry!
Recipe adapted from https://coconutheadsurvivalguide.com/laundry-detergent/