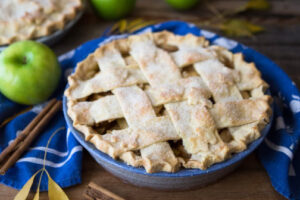 Pear-Apple Pie with Essential Oils
It's National Pie Day! Quite possibly one of the best days of the year. There's nothing more American than a good 'ole apple pie, but there's nothing more delicious than a pear-apple pie made with essential oils. We've adapted this recipe from Recipes with Essential Oils and golly, it's scrumptious.
Ingredients

2 nine-inch pie crusts

3 tablespoons lemon juice

2 drops cinnamon bark oil

1 drop ginger oil

1 drop clove oil

5 apples, peeled and sliced

3 pears, peeled and sliced

1 teaspoon cinnamon (for color)

½ cup brown sugar

½ cup white sugar

¼ cup flour

4 tablespoons butter, cut into small pieces

1 egg
Directions
Preheat the oven to 400 degrees F. Spray a 9″ pie plate with non-stick cooking spray. Add bottom crust to the pie plate.

Combine the lemon juice and the cinnamon, ginger, and clove essential oils in a large mixing bowl.

Add the sliced apple pieces and sliced pear pieces to the lemon juice mix and toss well. Once the fruit is coated in the lemon juice and oils, add the brown sugar, white sugar, and flour. Mix well.

Pour the fruit onto the bottom pie crust. Add the butter slices around the apple and pear pieces and then top with the other pie crust. Fold the crust edges together and pinch to seal. Brush the beaten egg over the top.

Place the pie into the oven on a rimmed baking sheet.

Bake at 400 degrees for 20 minutes, then reduce heat to 375 and cover with a piece of foil and continue baking for another 40 minutes.

Serve warm or cooled. You can keep it covered at room temperature for a day, or store in the fridge for up to 3 days.

Top it with ice cream or whipped cream…your choice! But we recommend ice cream. 😉
Check out more dessert recipes featuring essential oils here and here.