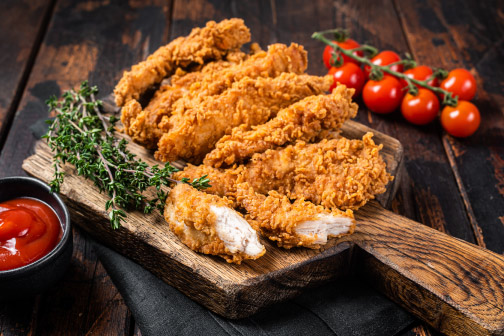 Now that school is back in session and schedules are a bit more fixed, it's much easier to get the whole family to sit down for dinner. Except now you need to come up with recipes that are appetizing, healthy, and reasonable. Well, we want to help! We are working on finding the best recipes that will be delicious and healthy for your family. We've done some research, and would like to share with you one of our favorite recipes that we've come across. The goal was to find a recipe for family dinner that was on the healthier side, but something that will still be considered a treat for you and your children. We think we've found just the thing.
Recipe for Family Dinner: Better-For-You Crispy Chicken Fingers
Ingredients
• 1 cup corn flakes
• 1 cup bread crumbs
• 2 tablespoons brown sugar
• 1 teaspoon salt
• ½ teaspoon black pepper
• ½ teaspoon ground allspice
• 3 tablespoons vegetable oil
• 1 ½ pounds chicken breast tenders
• 1/3 cup all-purpose flour
• 2 beaten eggs
• ¼ cup honey mustard
• ¼ cup barbecue sauce
Directions
• Preheat your oven to 375 degrees F.
• Pour the corn flakes in a large dish. Crush the cereal with the base of a cup (or with your hands). Mix in bread crumbs, sugar, salt, pepper, and allspice.
• Drizzle about 3 tablespoons of vegetable oil evenly over the breading. Toss and turn the oil into the mix.
• Cut the chicken into 3-5 inch pieces. Turn the chicken in flour, eggs, and then roll the chicken in your breading. Put the coated chicken on a nonstick baking sheet.
• Cook your chicken for 15 minutes, or until it is crispy and brown all over.
• Mix together the honey mustard and barbecue sauce in a small bowl. Now you have something to dip your delicious chicken in!
You and your kids will love this recipe for family dinner. Chicken is a great source for protein, but consider complimenting the chicken fingers with a side salad or sweet potato wedges for a well-balanced diet.
As always, it never hurts to use some essential oils when cooking. Check out this list of edible essential oils for healthy cooking. Adding a few drops of choice essential oils can add multiple benefits to your meals.