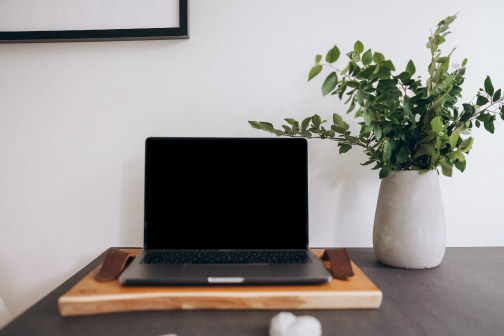 Do you ever feel overwhelmed when you sit down at your desk? Does your home office clutter make you crazy? Or do you wish you had a little color to spice up your cubicle? We've been through all of these and more, which is why we've made it our goal here at iTOVi to keep our workspaces focused around positivity and productivity. We've compiled a few of our favorite office tips and tricks to help you enjoy work a little more. Say goodbye crumpled sticky notes and hello personalized planning central!
1.Light, light, and more light!
It shouldn't be too surprising that poor lighting leads to poor productivity. If the lights are dim, your eyes droop and your shoulders sag. We've all been there. The number one way to improve productivity with lighting is to put your desk in front of a window. The natural sunlight provides energy to power through the day, and don't hesitate to stare out the window every once in awhile. If working by a window isn't an option, there are plenty of other ways to improve the lighting around you. Getting a desk lamp has endless possibilities, ranging from super cute to super practical, or both! We love this organized task lamp from Target and this bendable LED lamp off of Amazon.
2. Make it Yours!
There are so many ways to personalize your desk…picture frames, mugs, paintings, magnets, you name it! Claim that space and make it your own with all the little things you love. If it makes you happy, use it. We recommend hanging a big board right behind your desk. Whether a whiteboard or bulletin board, it opens up so many personalizing possibilities. You can pin up pictures or write yourself a different motivational quote each week. Bringing a personal touch into your workspace will help you remember who you are and what you're working towards. We love this wire wall hanger from Urban Outfitters, as well as this magazine rack from Cox & Cox.
3. Potted Plants are Perfect!
We all wish we could work outside on those warm spring afternoons. Unfortunately, we also know that cool breeze and warm sunshine would make us fall asleep. Bringing a little bit of the outside in will help you get the best of both worlds in your workspace. Any type of plant, ranging from cut flowers to potted succulents, can add a pop of color while benefiting your health. If you struggle to keep plants alive, we recommend getting cacti or succulents as they require very little water. If you're a natural green thumb, try your hand at some beautiful orchids! There are so many plant holders out there…the options are endless.
4. Everything has its place!
When you have to balance work, home, and maybe even school, it's easy to let your workspace get cluttered. It feels so good to tidy things up, but most of us here at the office realize a clean workspace usually lasts a few days before the scattered sticky notes and gum wrappers creep back in (we may or may not be speaking from experience). The good news is, there are ways to help your tidy desk last longer! It can be as simple as a colorful pen holder or as life-changing as a filing cabinet. We love this file holder from Crate & Barrel! However, if you choose to organize, keeping your desk free of clutter will ease stress and help you focus on the important things. Even a cable box can do wonders to tidy up your space. If you work in a small area, wall hanging organizers are a great way to get things out of the way but still within reach. 
Last but not least, don't forget to include an essential oil diffuser on your desk. Bringing in your favorite scents will help the office feel like home–even if the office is in your home! Different diffuser blends may help promote productivity or relaxation, depending on the oils you choose. The possibilities are endless!
Feeling inspired to update your workspace? Check some of our personal favorites for some ideas:
With all of these office tips in mind, we hope you find ways to make your workspace comfortable, productive, and a little more you. If you are an organizing expert and you have some tips for us, please let us know in the comment section! Happy planning!