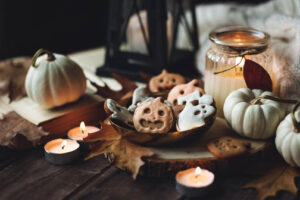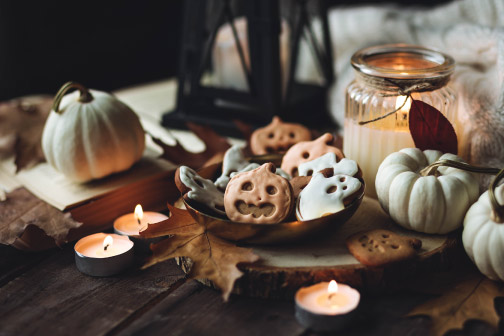 In case you weren't already aware, this coming Monday is Halloween! Which means you're probably looking forward to attending Halloween parties this weekend. The only problem is that you need a healthy Halloween treats that will keep with the theme. Well, as always, we've got you covered. Here are 10 of the best Halloween party recipes.
This dessert is sure to be a showstopper at any Halloween party. Granted, this is a more decadent dessert, but you could easily substitute ingredients with healthier alternatives.

Photo credit: Sugardishme.com
This is one of those perfect recipes that manages to both be seasonal and healthy. The principal ingredient for this dessert is in fact, pumpkin.

Photo credit: Potterybarn.com
Don't be intimidated, this is a super easy recipe that only takes about 15 minutes to make. If you want to get a little extra creative, you can hollow out some small pumpkins and use them as serving dishes!
Photo credit: Potterybarn.com
One of the easiest recipes in the book, this Halloween snack is really fun to make with kids. It's crazy what a little Babybel cheese and googly eyes can do.
Photo credit: Danyabanya.com
Perfect as a casually incredible party snack, the key to keeping this recipe on the healthier side is serving size. Though, considering how good this tastes, that may be hard to do!

Photo credit: wholefully.com
You read correctly! This recipe looks that good and is completely vegan and gluten free. You'll be even more shocked when you taste it.
Photo credit: elephantasticvegan.com
It doesn't get much healthier than this recipe for Halloween. The beauty of this recipe is that it seamlessly combines nutrition and deliciousness. Perfect for kids!

Photo credit: Twohealthykitchens.com
Chocolate dipped strawberries that look like ghosts. What more can we say?

Photo credit: Blog.candiquik.com
Okay, on the surface, this looks hard, but it's not! In fact, it's super easy. Plus the ingredients are great.

Photo credit: Forkandbeans.com
We're finishing with another vegan, gluten-free Halloween recipe that is sure to be a hit at any party. This recipe will take a little time to make, but it certainly will be time well spent.
Photo credit: Emileeeats.com
Enjoy these delicious healthy Halloween treats!