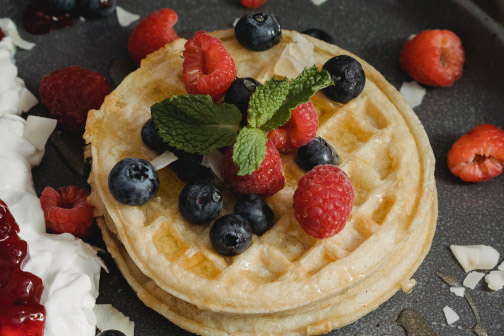 You've probably heard the phrase "breakfast is the most important meal of the day" sometime in your life. What people should start saying instead is "breakfast can be the most important meal of the day." Recent studies show that eating a non-nutritious breakfast is worse than not eating any breakfast at all! Which is why we wanted to give you a gluten-free waffles recipe that is guaranteed to be the right meal to start your day with.
Ingredients
1 ½ cups of Gluten-Free Pancake & Waffle mix
tablespoons coconut sugar
2 teaspoons baking powder
½ teaspoon sea salt
2 bananas
2 large eggs
¼ cup melted coconut oil (plus more for waffle iron)
1 teaspoon vanilla extract
For the Lavender Blackberry Syrup
1 ½ cups frozen wild blackberries
⅓ cup organic honey
1 drop Lavender essential oil
Note: You can really add any essential oils you like to the syrup, just make sure they are dietary before doing so!
Instructions
In a large bowl, whisk together the mix, coconut sugar, salt, and baking powder. Use another bowl to whisk together vanilla extract, eggs, bananas, and coconut oil until you get a smooth consistency. Stir the banana mixture into flour mixture and stir well to combine. Let the batter sit 10–15 minutes for the ingredients to sink in. In the meantime, let's make the syrup.
Combine the blackberries and honey in a small saucepan, stick it on an oven, and wait until it begins to boil. Then reduce heat and let it sit for 5–10 minutes or until the mixture looks syrupy. Let your syrup cool for a few minutes and then stir the Lavender essential oil into the mix.
Heat up your waffle iron around medium heat and coat the iron with melted coconut oil. Pour about a quarter cup of your batter onto the iron and let it cook. In about 4 minutes, your gluten-free waffles should be a crisp golden brown.
Enjoy with your syrup!