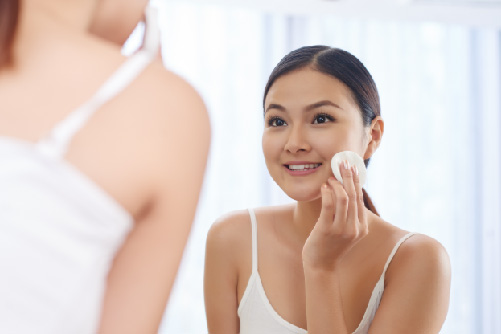 Toners are like the extra credit assignments of skin care.
They aren't as foundational to a skincare as cleansing or moisturizing…but if your personal skincare routine is pulling a B-, you might consider adding in a toner to get it up to an A!
And, as a bonus, toner are skincare steps for essential oil inclusion.
Of course, whether or not toner (with or without essential oils) becomes the missing golden piece to your skincare routine depends on you—your skin type, your budget, and your preferences!
Why Use a Toner?
The main job of a toner is pretty much to support the use of other skincare products.
On its own, it's unlikely to outperform or replace any of your other skincare products. But, what it can do help balance out your skin acidity if your cleanser was too harsh, help get a little more makeup and grime off your skin, or prepare your skin to more effectively take in the beneficial ingredients of serums and/or moisturizers.
On top of that, a toner can especially formulated to help resolve specific skin issues—like unbalanced pH levels, acne, excess dryness, etc.
What Kind of Toner is Good for My Skin Type?
If you have…

You may favor a commercial toner with…

You may favor a homemade toner made with…

Dry Skin

Hyaluronic Acid

Vitamin E

Coconut water

Algae extract

Aloe Vera Juice

Steeped Green Tea

Oily Skin

Niacinamide

Glycolic acid

Salicylic acid

Argan Oil

Grapeseed Oil

Normal Skin:

Hempseed Oil

Combination Skin

Niacinamide

Glycolic acid

Salicylic acid

Glycerin

Aloe Leaf Juice

Argan Oil

Grapeseed Oil

Normal Skin:

Hempseed Oil

Sensitive Skin

Niacinamide

Vitamin C

Rose Water

Aloe Vera Juice

*Note that treatment toners can be found for specific conditions such as acne, large pores, hyperpigmentation, wrinkles, and more.

*Note: Other popular ingredients for homemade toners also include w

itch hazel, apple cider vinegar, aloe vera, lemon juice, rose water, vitamin e oil, & green tea.
How Do I Use A Toner?
Skincare enthusiasts tend to disagree on whether it is best to use a toner before or after exfoliating one's face.
As a general rule however—we recommend using your toner before your exfoliator if you are wanting to enhance the action of your cleanser and after your exfoliator if you want more pH balancing, hydrating, or serum-prep benefits.
How to Apply Your Toner
The first thing to do is to spray or pour a small amount of your toning solution onto a cotton ball or cotton round.
Use the cotton round to swipe the toner across your face—paying special attention to the T-zone of your face (above your eyebrows, down and around your nose, and on your chin).
After covering the T-Zone, you can go on to pass the toner-laden cotton over the rest of your face, neck, and (if you wish) your upper chest.
Once you're done, there's no need to clean your toner off your skin. You can apply the next step of your skincare routine right over it—though you might want to give the toner a minute to sink into your skin before you continue your skincare routine.
Can I Use Essential Oils in My Toner?
Some oils, yes. If you use them safely.
See our Blogpost: The Basics of Skincare & Essential Oils for general safety considerations and read on to learn about essential oils in facial toners specifically.
Again, the oil you choose for your facial toner will depend on your skin's needs and sensitivities.
To find the essential oils that work for YOU in a toner, you must:
Do your research

Do patch tests

Be willing, while still following safety protocols, to experiment.
To get you started, check out this breakdown of the top-rated oils for use in toners:
Essential Oil

Pros

Cons

Tea Tree Oil

Strong antibacterial properties

Popular in cleansers and moisturizers

Recommended by HealthLine for both dry and oily skin

Recommended against acne

May be too strong (use in low dilution rates <1%)

May or may not do well with combination skin types

Helichrysum Oil

Traditionally known for its skin benefits, anti-inflammatory properties, and ability to promote wound healing

Expensive compared to many other essential oils

Bergamot

Antibacterial, anti-inflammatory, and analgesic properties

May help even out skin tone

May provide anti-stress effects

May be especially useful for combination skin types

Not recommended for especially sensitive skin

May increase skin photosensitivity for several hours, which makes it best used at night.

Rosemary Oil

Antibacterial, antioxidant, and astringent properties

Often recommended against acne and for dry skin

More often recommended for toners

Frankincense oil

Expensive compared to many other essential oils

More often recommended for moisturizers and toners

Roman Chamomile

Anti-inflammatory and anti-anxiety properties

May be especially helpful for dry and combination skin types

Not recommended for those with seasonal allergies of asthmatic conditions

Rose

Antibacterial, antifungal, analgesic, antiseptic, astringent, and antidepressant properties

May help against acne, inflammation, and skin redness

Potential respiratory irritation, so use and inhale only with due caution.

Ylang Ylang

antibacterial, antifungal, and anti-inflammatory properties

May reduce breakouts, diminish blemishes, and boost cell regeneration

Potential allergic reaction so be sure to patch test

Learn more about specific essential oils, their benefits, contraindications, and more here.
Conclusion
Toners can be great additions to skincare routines—especially for those who are targeting specific skin issues or those you are just looking to be extra thorough.
They can't replace cleansing or moisturizing. But they add a nice, extra layer of support to your skin that helps create that even, glowing skin tone that we love.
If you liked this review on essential oils and facial toners, feel free to leave a comment below and check our other blog posts:
Essential Oils & Facial Cleansers
Essential Oils & Facial Exfoliation
Essential Oils & Facial Toners
Essential Oils & Facial Serums