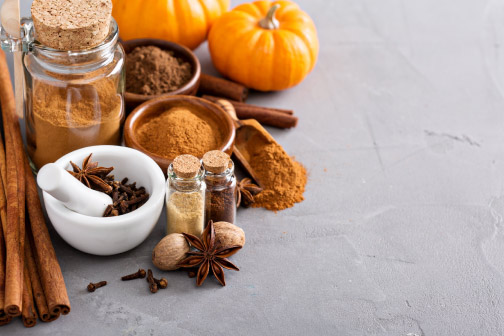 The sights and smells of Fall make for a magical time of the year. The sad part about Fall is that it usually ends all too soon. Fall spices are synonymous with that magical Fall feeling, and will help you get lost in the season. Whether you use these Fall spices in cookies, hot ciders, teas, soups, potpourris, or placed in a dish for a table centerpiece, you will feel like you're truly embracing Fall. Besides the delightful aroma, these Fall spices provide considerable health benefits.
1. Turmeric
Turmeric has been used in India for thousands of years as a spice and herb. Recently, the century-long tradition of using Turmeric for its health benefits has been validated. In addition to increasing the antioxidant capacity of the body, turmeric is anti-inflammatory, antimicrobial, and antiseptic. Meaning improved digestion, strong immune system, improved circulation, and joint health!
On top of all those health benefits, turmeric is a delicious, seasonal spice that will certainly warm up your Fall.
2. Cinnamon
There was no way we could compile a list of the best Fall spices without including cinnamon. You're well aware of the rich sweet flavor of cinnamon, but you may not be aware of the amazing health benefits.
Cinnamon acts as a boost to your entire body.  Cinnamon is an effective stress reliever. Just the sweet smell of cinnamon can reduce feelings of stress. The inviting aroma takes the mind off of stressful things, and creates a soothing, calming environment.
3. Licorice Root
Traditionally used to sweeten bitter flavors for children, licorice root also has awesome benefits beyond the delicious taste. A big reason why licorice root was so effective with children is because of its effects on stress. Licorice root stimulates adrenal glands, which help the body cope with stress.
Going back to the flavor, licorice root contains glycyrrhizin, which is even more sweet than sugar. Maybe the best part about the sweet flavor is that it is a natural sweetness, without any artificial flavoring. If you find yourself drinking teas or formulas you don't especially enjoy, add licorice root! It's amazingly effective in masking bitter tastes, without taking away from any therapeutic, or medicinal effects.
4. Ginger
The best spices are both nutritious and delicious, and ginger is no exception. The scent of ginger is the exact warm, inviting aroma that Fall is all about. Adding ginger to just about anything will give a sweet and spicy flavor that is undeniably delicious.
Ginger is one of the best herbal sources for vitamin C, vitamin B6, potassium, magnesium, and manganese. Also, if you find yourself feeling dizzy or nauseous this season, ginger is extremely helpful for any kind of motion sickness.
5. Cloves
For starters, cloves are a beautiful, bright red color that embodies the Fall aesthetic. Like all the best spices, cloves are potent, but don't worry, the aroma is something you'll enjoy. Especially considering the fact that cloves are an excellent breath-freshener that kills odor-inducing bacteria and leaves your mouth feeling post-toothbrush fresh.
Cloves help play a role in helping your body combatting muscle aches, tooth aches, earaches, and sickness. So if you find yourself feeling a little under the weather, or sore after an autumn run, add some cloves to your tea or tinctures to sooth achy joint and muscles and enhance the flavor.
These amazing Fall spices are truly amazing gifts that come from the earth every year. Use them liberally to spice up your season, and improve your health.