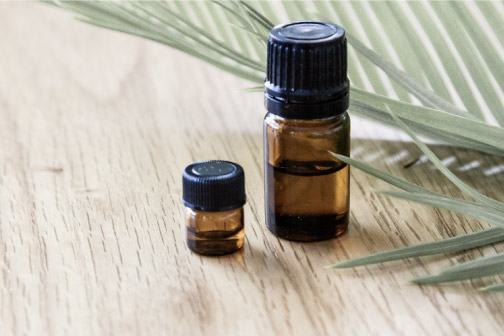 If you are new to the world of essential oils, or if you're just looking for some new ways to use your old favorites, here is a list of five of the most common oils and their uses. With a wide range of qualities from peaceful to energizing, these five oils may help improve your mood and overall health.
Melaleuca
This is often one of the first purchases for new oil users because it has such a wide range of uses! Also known as tea tree oil, melaleuca may be used to sooth everything from cuts to colds. We recommend adding it to your collection soon with cold-season looming on the horizon! Melaleuca oil may also be applied to dry skin or small cuts when blended with a carrier oil. Melaleuca is an excellent skin cleanser, so be sure to watch out for homemade face scrubs to add to your collection.
Orange
The bright and clean scent of orange oil is well known for its uplifting and naturally antibacterial qualities. Add several drops to a spray bottle filled with water and you have yourself a fresh cleaning spray. Spritz on all your linen goods for an extra fresh and invigorating scent. This essential oil isn't just popular for its cleaning capabilities and ability to improve and energize your mood–it also makes a delicious addition to recipes! Mix some in with your brownies or other desserts to add a refreshing citrus flavor.

Peppermint
Due to its mood-boosting capabilities, peppermint oil is a definite go-to. Not only can it be used in homemade deodorants and toothpaste because of its natural freshness, but it's also applied as a natural soother! Rub a drop or two on your temples to ease tension in your head or put a few drops in your hot cocoa to kick-start some relaxation. It can help wake you up or put you to sleep. This headache-soothing, tummy-calming, mood-boosting oil is a must-have for every season. You can even put your peppermint oil to use in a spray bottle mixed with water to cool you down after a long run or during those hot summer days!
Lavender
With lavender oil's peaceful and calming scent, this oil is the perfect addition to a warm bubble bath. Even a drop or two on your pillow before bedtime may help you feel calm and relaxed, ready for a deep sleep. It's also a great antiseptic, so it can help kill bacteria when it's used as a cleaner. You can apply lavender topically for relief from head tension and symptoms associated with colds, but its fresh and floral scent makes it enjoyable enough to diffuse at any time!

Lemon
Last but certainly not least, lemon oil is extremely popular for its uplifting qualities. Did you know that using lemon oil may boost your concentration and help you focus? It's perfect for the new school year! Adding a few drops to your water throughout the day may even aid your immune system. This scent is perfect to diffuse around the house. Who wouldn't want their living room smelling like a lemon grove? Similar to orange oil, you can use lemon oil mixed with water as a natural cleaning spray.
Now that you know five of the most common essential oils, it's up to you to find your personal favorite. Let us know which one you feel is best for you and your family!