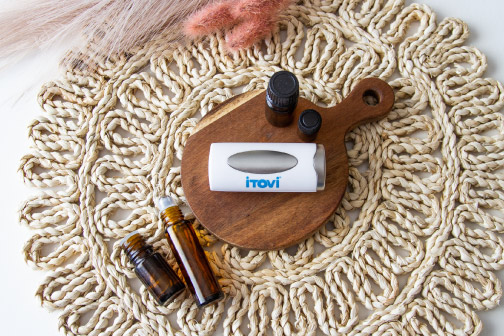 Do you remember back when you got your very first iTOVi scan? If you're crazy about oils like we are, then opening up that first scan report felt just like Christmas morning. There are so many oils, and so many ways to use them, but right there in front of you was a personalized list of the oils and supplements your body had the strongest response to. What a game changer!
You would think having an iTOVi scanner would make our oiling decisions easier, but believe it or not, we still get stuck in a rut sometimes. We often find ourselves adding oils to a diffuser without considering other options. As much as we love diffusing and using roller bottles, it can be so fun to mix things up. Check out these three unique ways to use your classic favorites or introduce some new products from your scan report.
1. Rub-a-dub-dub
We've talked about bathing with essential oils before, but can you ever take too many bubble baths? The great thing about adding essential oils to your tub time is that you can improve your wellness the emotions and body systems categories. The addition of essential oils to your warm bathwater can benefit you physically, emotionally, and environmentally.
Whether you choose to add your oils straight to the water, or if you take the time to make a cute EO Bath Bomb, you will feel relaxed and refreshed as a result! If you want more ideas for bath time, check out our blog post all about using essential oils in the tub here.
2. Spray Bottle, Baby!
Are you ready to bring your oil benefits to the whole family? When you scan for an oil, add several drops of it to a small spray bottle filled with water. Once that's done, spritz everything around you with a little oily love! Couch cushions, bed sheets, office chairs, or even the air itself, this oily boost will leave you in a healthy, happy environment for the rest of the day. Just be sure to test the spray mixture on a small section of fabric first to make sure it won't leave a stain.
3. What's in Your Water?
If the oils you scan for are safe for internal use, then kill two birds with one stone by combining your scan results with your water goals for the day! Drinking lots of water is a key part of improving your overall wellness. Infusing your water with essential oils can give you a refreshing energy boost to power you through those last few hours of the day. You can even add those oils to your morning coffee or nighttime tea. For tips on combining essential oils with coffee, check out our other blog post. If you have questions about which oils are safe for internal consumption, please consult your doctor or an essential-oil certified medical professional.
How do you usually like to use oils in your life? If you know another unique way to apply your scan results, share it with us in the comments below. Adding a bit of variety to your everyday oiling routine keeps your wellness journey as exciting as it was after that very first iTOVi scan!