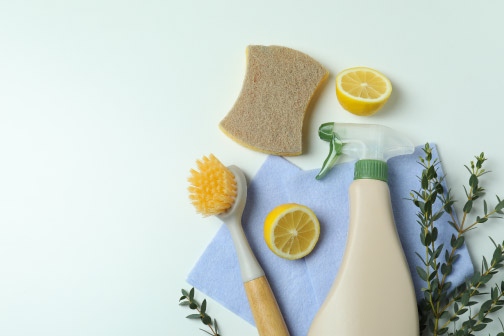 It's that time of year again…the time to throw open the curtains, sing your heart out and watch as cute little squirrels and bunnies come running to clean the house for you. Err, reality check. Unless you're Snow White, you probably don't have furry friends willing to tackle that spring cleaning for you. At the most, you might have a toddler who thinks they're helping you do dishes when really they're just playing with soap bubbles. Thanks, kiddo.
Spring cleaning can feel so overwhelming, especially when all you want to do is enjoy the beautiful warm weather. And to top it all off, many of the cleaning products found in stores may contain dozens of chemicals that we really don't want in our homes. Luckily, some essential oils provide a natural antibacterial alternative. We've done the hard part for you by researching natural cleaning essential oil recipes. Once the party starts, pass around the iTOVi scanner and show your friends how they can filter the products by the environmental category. In this view they will see the top products from this category only…and now it's time to explain how they might want to consider implementing the listed products into their cleaning recipes. Your friends will love the chance to learn about how to use their favorite essential oils products to create natural cleaning sprays. Before exploring our favorite cleaning recipes, take a look at which essential oils have natural antibacterial properties:
Lemon oil

Orange oil

Peppermint oil

Lime oil

Grapefruit oil

Eucalyptus oil

Melaleuca oil
Hint: Keep reading to download our FREE printable cleaning labels! Just cut them out & pass them around at your scanning party!
Glass and Window Cleaner
Ingredients:
⅔ cup water

⅓ cup white vinegar

8 drops oil of choice (we recommend lemongrass!)
Directions:
Pour all ingredients into a glass spray bottle

Stir to combine

Store in a cool, dark place for up to 1 month
Carpet Cleaner and Deodorizer
Ingredients:
1 cup baking soda

15 drops oil of choice (try a mix of rosemary & melaleuca)
Directions:
Mix the ingredients and store them in a glass shaker bottle

When using, simply sprinkle over carpet and let it sit for 5 minutes

After 5 minutes, vacuum your carpet

Store the shaker in a linen closet to keep your sheets smelling fresh and clean!
Countertop Cleaner
Ingredients:
1 cup water

8 drops each of 3 oils of choice (we use orange, clove, and sandalwood oil)
Directions:
Combine ingredients in a glass spray bottle

Spritz on countertops, doorknobs, window sills, etc.

Wipe down surfaces with a dry towel.
Laundry Detergent
Ingredients:
Bar soap of choice, grated

1 cup borax

1 cup washing soda

15 drops oil of choice (we love the smell of orange + lemon)
Directions:
Grate the soap into small pieces so it will easily dissolve

Add the washing soda and borax; mix well

Stir in essential oils

Use 1-2 tablespoons of detergent per load of laundry

Store in a glass, airtight container
Fresh Linen Spray
Ingredients:
¼ cup water

3 tablespoons witch hazel

10 drops essential oil of choice (all in favor of lavender, say aye!)
Directions:
Combine ingredients in a glass spray bottle

Spray on sheets, pillowcases, and blankets
Now that you have a few recipes under your belt, you're ready to take charge and host a spring cleaning scanning party! Blast some music and set out some healthy goodies to enjoy while you and your friends assemble your own cleaning sprays and mixes. Don't forget to offer everyone an iTOVi hand scan so they have a better idea of which essential oils to add to their cleaning products. After all the mixes are made, give your guests some time to make labels for their cleaners and decorate their bottles. Believe it or not, this scanning party might just make you look forward to spring cleaning next year, too!
Before you go, be sure to download these FREE cleaning bottle labels! We designed them just for you to help you have the cutest spring cleaning supplies in town. Just click on the image and print the pdf. page from there. Happy scanning!