---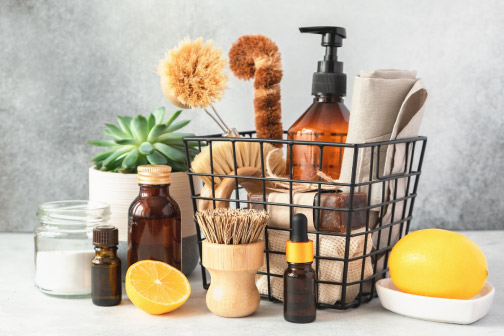 What are the facts?
Only 7% of the top-selling chemicals on the market fully disclose their ingredients. The average household contains over 50 toxic chemicals. Children are especially vulnerable to toxic chemicals some of which can cause neurological conditions.
The average household spends $42 per month on toxic cleaning products. Essential oils are a healthier and more cost-effective alternative.
Which oils should I use?
Disinfecting
Cinnamon
Clove
Eucalyptus
Lemon
Melaleuca
Peppermint
Rosemary
Protective Blend
Cleansing Blend
Mold & Mildew
Cinnamon
Melaleuca
Oregano
Clove
Thyme
Rosemary
Protective Blend
Cleansing Blend
Grease Cutter
Lemon
Orange
Lime
Bergamot
Citrus Blend
Freshener
Basil
Bergamot
Eucalyptus
Grapefruit
Lemon
Peppermint
Orange
Lemongrass
Cleansing Blend
Invigorating Blend
Insects
Peppermint – for ants & spiders
Cedar wood – for moths
Melaleuca – for lice
Eucalyptus – for dust mites.
  Like this recipe? Find more like it in the Everyday Essentials Guide.